The Hunterdon 300th Proudly Announces Our History and Heritage Theme for Join us for a year of exploring the many facets of how water has affected Hunterdon's history -- from the migration of the Europeans using the Delaware and Raritan Rivers, to the Great Flood of '55, to Lenape encampments along the rivers, to our historic mills and ferries, the importance of the D&R Canal, the history of the reservoirs and so much more. A year of fun events, trips and talks.
2014 was a wonderful year celebrating Hunterdon County's . We had such a huge success in 2014 we decided to continue our efforts to bring these programs to you for as long as we can.
In 2015 our Hunterdon History and Heritage theme was .
2016 we celebrated Hunterdon's Heritage and .
Our 2017 Lectures and Events have the theme of  .
Municipalities and other special partners have been invited to add their heritage events to our calendar.
If you have any questions please email or call us at 908-788-2030.
MUNICIPAL BOUNDRIES PRESENTATION:
CLICK on the MAP IMAGE BELOW for a Detailed Presentation on
How the County's Municipal Boundary Lines Have Changed Over the Years.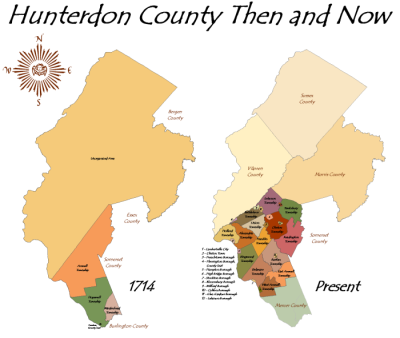 ~~~~~~~~~~~~~~~~

UPCOMING EVENTS
Some Require Reservation Tickets
Click Links Below for More Information

October 23:
November 4:
November 10:
November 18: The Town that Disappeared Overnight
-
-

~~~~~~~~~~~~~~~~
UPCOMING EVENTS SPONSORED BY OUR SPECIAL PARTNERS
October 19-20:
October 20:
October 20: Hearth and Home Colonial Cooking Demonstration & Vintage Garment Displays - Union Forge Heritage Association
October 21:
October 26-27:
October 28:
November 4:
November 4: CRAFTS regular meeitng with Special Guests - Open to All
November 4:
November 10: Raritan Township Locial Historians Committee - Bus Trip to the Museum of American Revolution, Philadelphia, PA
November 11: Hunterdon Symphony Concert Honoring Composers Who Served in WWI

~~~~~~~~~~~~~~~~

The Astle-Alpaugh Family Foundation has produced a video about Richard Pierce's flag collection; Richard, an amazing volunteer for lucky historical organizations including the Red Mill, Morven Museum and the 300th, discusses the important history of our great Nation's flag.
THANK YOU TO OUR GENEROUS SPONSORS FOR THEIR CONTINUED SUPPORT: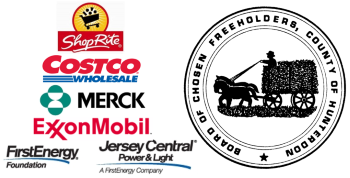 A huge thank you to our incredible sponsors, volunteers and committee members for all of your support.

October 17, 2018:
October 07, 2018:
September 24, 2018:
August 31, 2018:
August 21, 2018:
June 02, 2018:
April 27, 2018:
March 28, 2018:
February 18, 2018:
January 27, 2018: