Welcome to the County of Hunterdon's Tricentennial Celebration website. Please visit often as we update this site daily. We are planning many special events, lectures, tours, fundraisers and more. Join us as we celebrate our 300th Year.
If you have any questions please email or call us at 908-788-2030.
Our office which is located at 3 Chorister Place in Flemington, NJ (just off of Main Street adjacent to the Flemington Borough Police Department) and is open to the public on Saturdays only from 10am to 2pm.
SOME EVENTS WILL REQUIRE RESERVATIONS, ALTHOUGH MOST ARE FREE. Reservations will be taken on a first come first served basis. Reservation information will be posted 3 to 4 weeks prior to each event.
MUNICIPAL BOUNDRIES PRESENTATION:
CLICK on the MAP IMAGE BELOW for a Detailed Presentation on
How the County's Municipal Boundary Lines Have Changed Over the Years.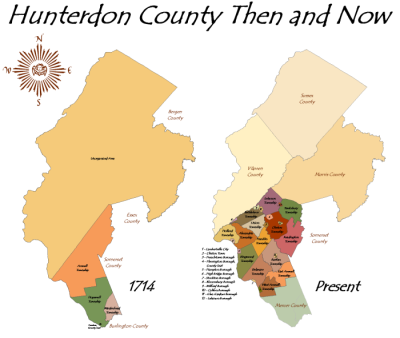 Saturday, May 10: Tavern Tour: Stockton Inn. - sorry sold out

Friday, April 11, 2014: "MAY" We Entice You? NEW TICKETS AVAILABLE!

Thursday, April 3, 2014: Lindbergh Tours! Lindbergh Play! and more...

Sunday, March 16, 2014: New Tickets, Old Events; New Tickets - New Events!

Sunday, March 9, 2014: April Events - Lindbergh, Quilts, Poetry and More!

Saturday, March 8, 2014: We Love A Parade! DETAILS!

Sunday, March 2, 2014: A Grand Night to Celebrate our 300th!


Thursday, February 13, 2014: 3 Tricentennial Events You Need to Know About NOW!
One Man Show
"Charles Lindbergh: The Lone Eagle"

MAY 3RD & 4TH
PERFORMED BY:
Steve Carroll
Historic Hunterdon County Courthouse, Main Street, Flemington
TICKETS ON SALE NOW!!!


TICKETS NOW AVAILABLE FOR ALL
APRIL & MAY EVENTS

April 22:
April 23:
April 25: Tour of Lindbergh's Home and Important Kidnapping Sites 9:30am Tour - sorry sold out
April 25: Tour of Lindbergh's Home and Important Kidnapping Sites 1:30pm Tour - sorry sold out
April 26:
April 27:
April 29:
May 10: Tavern Tour: Stockton Inn - sorry sold out
APRIL EVENTS SPONSORED BY OUR
SPECIAL PARTNERS:
April 19th: Historic Walk - Village of Cokesbury April 24th: Hunterdon in My Heart Book Signing and Presentation
April 25th: Arbor Day Tree Planting
April 26th: Tour Historic Lambertville
April 27th: Tour Historic Lambertville
April 27th: Young Artists Clay Workshop
THANK YOU TO OUR GENEROUS SPONSORS: