Welcome to the County of Hunterdon's Tricentennial Celebration website. Please visit often as we update this site daily. We are planning many special events, lectures, tours, fundraisers and more. Join us as we celebrate our 300th Year.
If you have any questions please email or call us at 908-788-2030.
Our office which is located at 3 Chorister Place in Flemington, NJ (just off of Main Street adjacent to the Flemington Borough Police Department) and is open to the public on Saturdays only from 10am to 2pm.
SOME EVENTS WILL REQUIRE RESERVATIONS, ALTHOUGH MOST ARE FREE. Reservations will be taken on a first come first served basis. Reservation information will be posted 3 to 4 weeks prior to each event.
MUNICIPAL BOUNDRIES PRESENTATION:
CLICK on the MAP IMAGE BELOW for a Detailed Presentation on
How the County's Municipal Boundary Lines Have Changed Over the Years.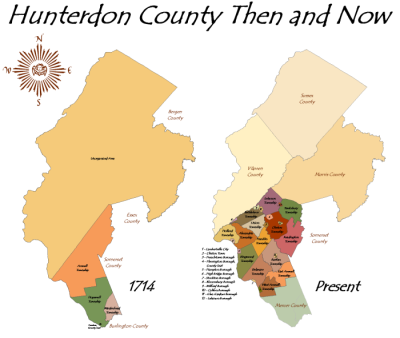 Wednesday, July 23, 2014: Tavern Tourists - This Blog is For YOU!!

Wednesday, July 16, 2014: Concert Special, Family Friendly Free Farm Fun and August Tickets!

Wednesday, July 09, 2014: MUsic and MUseums for your AMUSEMENT!

Thursday, July 3, 2014: FIREWORKS RESCHEDULED AND CONCERT MOVED

Wednesday, June 25, 2014: Read this Post if you are an Indiana Jones Wannabes!!
FREE CONCERT UNDER THE STARS
7pm Deer Path Park
120 West Woodschurch Road , Flemington

THURSDAY - JULY 24TH:
THE JERSEY SHADES
The Jersey Shades have been performing in and around New Jersey for more than 20 years, playing some of the greatest music from the 50s to the present day. The six members pride themselves on their defining harmonies and
talent. The band's ultimate goal is to provide entertainment for all using bass, sax and percussion, and much more.
TICKETS NOW AVAILABLE FOR
JULY & AUGUST EVENTS

July 24th:
July 26th:
July 27th:
July 31st:
August 3:
August 6: :
August 7: and
August 8: 9:30am Tour of Linderbergh's Home and Important Kidnapping Sites SOLD OUT
August 8: 1:30pm Tour of Linderbergh's Home and Important Kidnapping Sites SOLD OUT
August 9:
August 13:
August 14:
August 16:


August 21:
August 27:
Thru October 1st:

UPCOMING EVENTS SPONSORED
BY OUR SPECIAL PARTNERS:
Thru - September 11th: Prall House Docent Tours at the Prallsville Mills, Stockton
Thru September 21st: Exhibit - Overview of Hunterdon County: A history through Aerial Photography
Solitude Heritage Museum of Early Hunterdon History, Cultural and Environmental Center, 117 Van Syckles Road, Hampton Grand Opening
August 3: Lambertville Historic Walking Tour
August 17: Tour Tewksbury by Auto
August 17: Cemetery Walking Tour
August 31: Riverfest

THANK YOU TO OUR GENEROUS SPONSORS: