Welcome to the County of Hunterdon's Tricentennial Celebration website. Please visit often as we update this site daily. We are planning many special events, lectures, tours, fundraisers and more. Join us as we celebrate our 300th Year.

If you have any questions please email or call us at 908-788-2030. Our office which is located at 3 Chorister Place in Flemington, NJ (just off of Main Street adjacent to the Flemington Borough Police Department) and is open to the public on Saturdays only from 10am to 2pm.
SOME EVENTS WILL REQUIRE RESERVATIONS, ALTHOUGH MOST ARE FREE. Reservations will be taken on a first come first served basis. Reservation information will be posted 3 to 4 weeks prior to each event.
MUNICIPAL BOUNDRIES PRESENTATION:
CLICK on the MAP IMAGE BELOW for a Detailed Presentation on
How the County's Municipal Boundary Lines Have Changed Over the Years.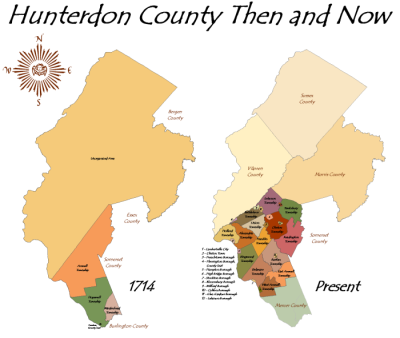 Thursday, October 23, 2014:

Friday, October 10, 2014:

Saturday, October 4, 2014:

Wednesday, September 24, 2014:

Tuesday, September 16, 2014:

Thursday, September 4, 2014:
THANK YOU TO OUR GENEROUS SPONSORS: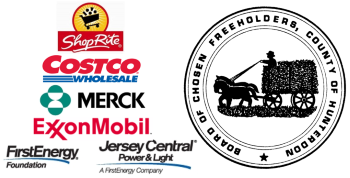 Just in time for the Season - Family Friendly Fun Activities as you search the historic graveyards of Hunterdon County. Choose one or more of our activities and complete by November 6th and you get a sur-prize at our follow up talk " at 7 pm at the Main Branch of the County Library!
~~~~~~~~~~~~~~~~
300th Presents Original Blue Skies to Freeholders and Judiciary to be permanently hung at the Justice Complex.
Some Signed and Numbered Limited Edition Prints are Still Available While They Last!
Call 908-788-2030 for more information or
~~~~~~~~~~~~~~~~

RESERVATION TICKETS NOW


November 1st: Encore! Searching the Search Room with County Clerk Mary Melfi sorry sold out
November 1st:
November 2nd:
November 5th:
November 6th:
November 7th - 21st:
November 8th: Historic Menu, Tavern Tour and Lecture at the Tewksbury Inn. sorry sold out


November 8th:
November 9th:
November 12th:
November 15th:
November 16th: (NOTE: This event was previously scheduled for September 28th)
November 19th:

UPCOMING EVENTS SPONSORED
BY OUR SPECIAL PARTNERS
October 24th: Ghosts of East Amwell -
October 25th: Stroll Through Flemington - A Historic House Tour
October 26th:
November 1st:
November 9th: