2014 was a wonderful year celebrating our 300th Year - thank you so much for the overwhelming participation in the many events that took place. We hope you had an enjoyable time. A huge thank you to our incredible sponsors, volunteers and committee members for all of your support.
We had such a huge success in 2014 we have decided to continue our efforts to bring these programs to you for as long as we can. For 2015 Our Hunterdon History and Heritage theme is HUNTERDON'S AGRICULTURAL HERITAGE - join us as we celebrate. We hope to see you at one of our great events. Municipalities and other special partners are also invited to add their heritage events to our calendar - so please take a look to see what they will be offering as well.

If you have any questions please email or call us at 908-788-2030.


~~~~~~~~~~~~~~~~
RESERVATION TICKETS AVAILABLE:

April 29th:
June 13th: Children's Historical Craft Project and Story Time with Author and Artist Emily Schalk - coming soon...
~~~~~~~~~~~~~~~~
SPECIAL PARTNER EVENTS:

April 29th:
May 3rd:
May 16th: Bus Tour and Lunch to Historic Bethlehem, PA with the Raritan Township Historical Commission
May 16th-17th: Delaware Valley Herb Society Sale at the Holcombe-Jimison Farmstead
May 17th:
May 17th:
May 30th: The American Revolution on the home Front -

MUNICIPAL BOUNDRIES PRESENTATION:
CLICK on the MAP IMAGE BELOW for a Detailed Presentation on
How the County's Municipal Boundary Lines Have Changed Over the Years.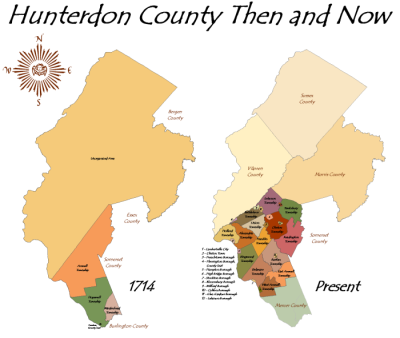 April 21st:
April 8th:
March 8th:
January 27th:
January 1st:
THANK YOU TO OUR GENEROUS SPONSORS FOR THEIR CONTINUED SUPPORT: