Welcome to the County of Hunterdon's Tricentennial Celebration website. Please visit often as we update this site daily. We are planning many special events, lectures, tours, fundraisers and more. Join us as we celebrate our 300th Year.
If you have any questions please email or call us at 908-788-2030.
Our office which is located at 3 Chorister Place in Flemington, NJ (just off of Main Street adjacent to the Flemington Borough Police Department) and is open to the public on Saturdays only from 10am to 2pm.
SOME EVENTS WILL REQUIRE RESERVATIONS, ALTHOUGH MOST ARE FREE. Reservations will be taken on a first come first served basis. Reservation information will be posted 3 to 4 weeks prior to each event.
MUNICIPAL BOUNDRIES PRESENTATION:
CLICK on the MAP IMAGE BELOW for a Detailed Presentation on
How the County's Municipal Boundary Lines Have Changed Over the Years.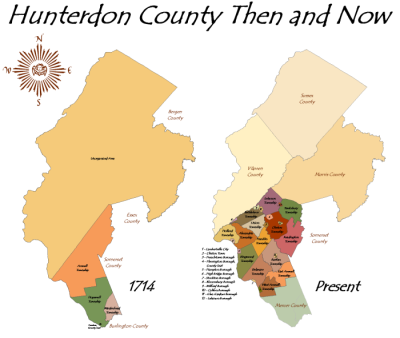 Wednesday, August 12, 2014: Fab Four and Fab Tour! September Tickets are Here:

Wednesday, August 6, 2014: History of the Flemington Fair:

Thursday, August 7, 2014: Concert and Fireworks:

Saturday, August 9, 2014: Elizabeth Gilbert:

Saturday, August 13, 2014: At the Office of the Surrogate, lecture on the Probate Process:

Thursday, August 14, 2014: Beatlemania:
THANK YOU TO OUR GENEROUS SPONSORS: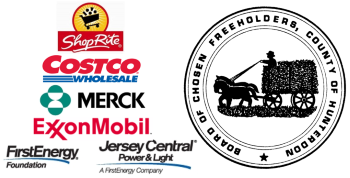 September Tours
North County Farm Tour and BR&W Train Tour
The North County Farm Tour on September 6th includes a bus ride, tours and lunch.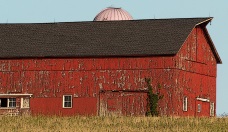 The Train Tour on September 13th includes live music, special tours of museum and restored train cars, lecture the History of Rail in Hunterdon (NOT the same lecture as 9/10), lunch and a special dessert.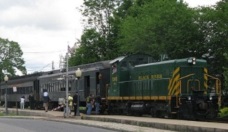 TICKETS NOW AVAILABLE FOR
AUGUST & SEPTEMBER EVENTS

Thru October 1st:

August 27:
September 6:
September 6-27:
September 9:
September 10:
September 13:
September 16:
September 20:
September 28:
September 30:

UPCOMING EVENTS SPONSORED
BY OUR SPECIAL PARTNERS:
Now Thru September 11th: Prall House Docent Tours at the Prallsville Mills, Stockton
Now Thru September 21st: Exhibit - Overview of Hunterdon County: A history through Aerial Photography August 31: Riverfest
September 1-31:
Sepember 7: Lambertville Walking Tour -
September 14: Amewell Church of the Brethren and Cemetery
September 14: Historic Pottersville Walking Tour
September 14: Scarecrow Contest -
September 20:
September 20:
September 20:
September 27: Chief Tuccamirgen Day,
September 27: Hisotric Milford Walking Tour and Photography Exhibit Milford Borough Historical Society
September 27:
September 29: Annual Design Awards and Dinner Ceremony